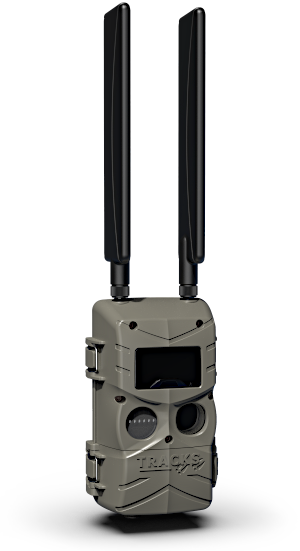 Tracks LTE Camera
Tracks LTE camera is the newest cellular camera from Cuddeback. Tracks includes dual paddle antennas to deliver images in areas of poor LTE coverage. Dual SIM cards allows users to choose AT&T or Verizon and switch carriers as needed. Tracks features Cuddeback's latest technology with a full user interface, 3rd generation animal sensor with 7 sensitivity levels, Auto Camera Delay, Prime Time timelapse and long battery runtime with support for optional external power. Cuddeback's CAMP website or smartphone APP allows you to setup and control the camera from anywhere. Tracks leads with data plans as low as $4 per month.
Tracks is available in low-glow IR and no-glow Black Flash®.
Note: This is not a CuddeLink camera. Each Tracks camera requires a separate data plan.