Free Cuddeback Tracks Camera

For a limited time you can get a limited edition black & white* Tracks cell camera at no cost with the purchase of an annual cell plan.
*Records black and white pictures day and night.
Tracks is the new brand of cellular trail cameras by Cuddeback. Cuddeback is the innovator of the revolutionary CuddeLink networked trail cameras. However, many hunters do not require CuddeLink's advanced technology and a conventional cellular camera is preferred.
Cuddeback introduced the Tracks™ brand to avoid confusion with CuddeLink products. But Tracks is all Cuddeback inside, with all the advanced performance, features and patented technology Cuddeback has been known for since 1989.
Tracks is not just another badged import, it was designed by the oldest trail camera company with over 30 years of experience. Unlike most trail cameras, Cuddeback designs our cameras with our staff in USA.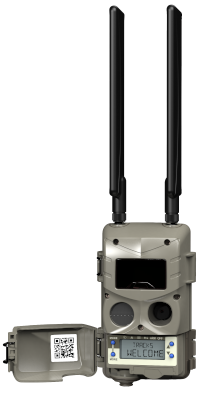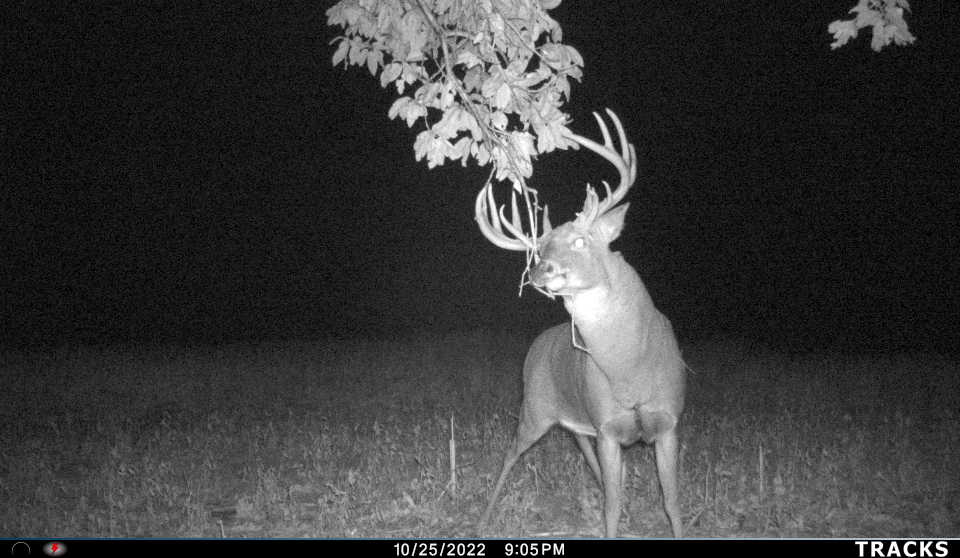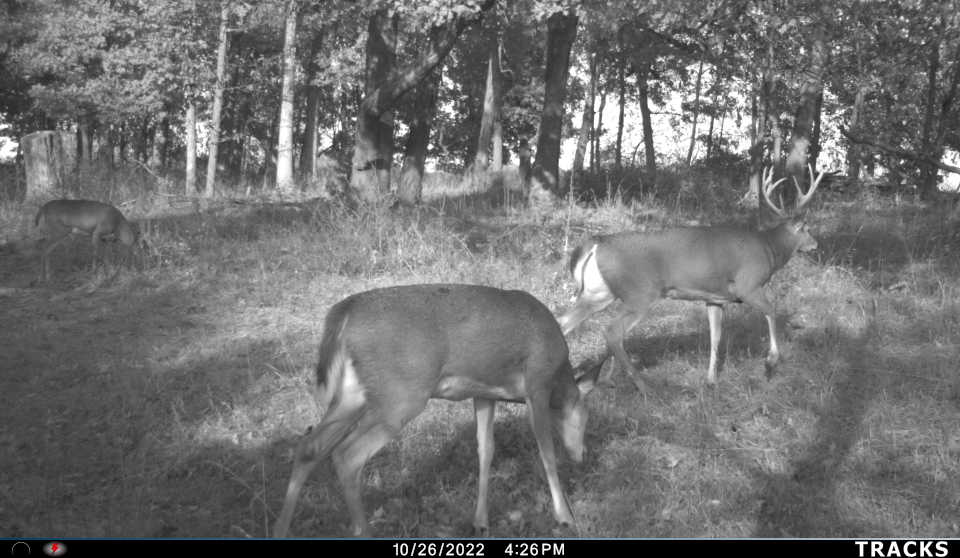 HOW TO GET YOUR FREE TRACKS
Purchase an annual cell plan. $130 for unlimited images for 1 year. Plan auto renews unless cancelled before the expiration date.
Once your plan is purchased your Tracks will ship within a few days.
When you receive your Tracks camera login into your CAMP account and click ADD CAMERA, and select TRACKS. Follow onscreen instructions to activate the camera. Your data plan does not begin until the plan is activated, thus you will not be using your data until you activate the plan.
NOTE - you must use CAMP to activate the camera or it will not connect to the cell towers. This assures your 12 month plan does not start until you decide to start it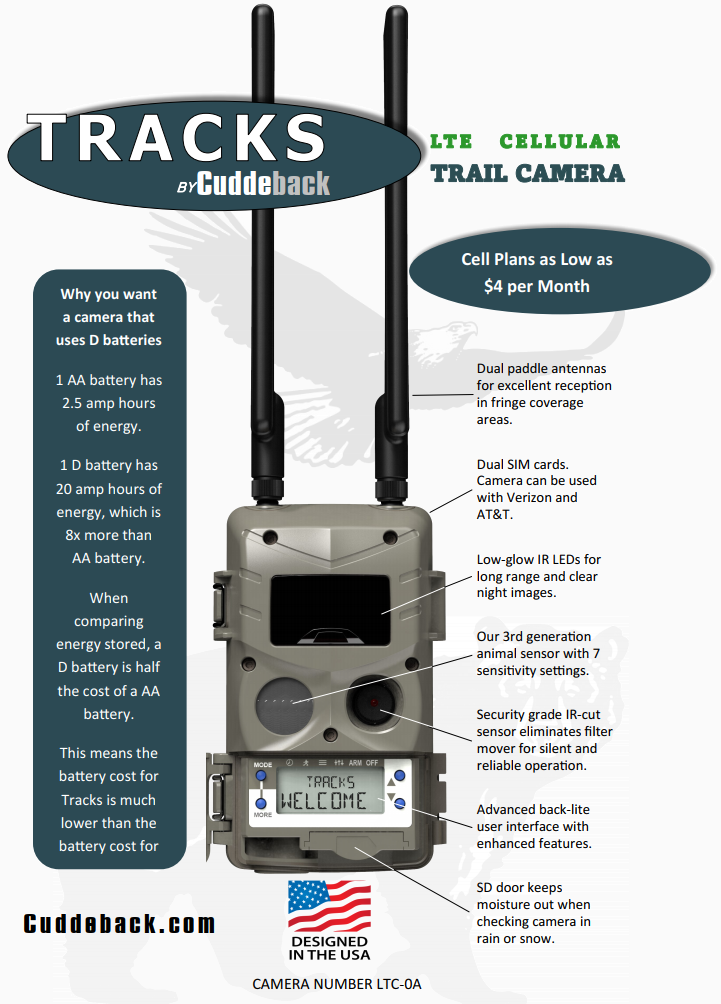 FEATURES & PERFORMANCE
Camera Features
1/4 second trigger speed day and night.
Camera delays from 5 seconds to 5 minutes.
Patented Auto Camera Delay.
Dual timelapse modes (Prime Time & standard).
High-definition security grade sensor optimizes image clarity and brightness for LTE delivery and phone viewing.
Uses 4 D batteries for extended battery life.*
Uses SD cards up to 256 GB.*
*SD card and batteries not included.
LTE Features
Dual SIM cards operates with AT&T and Verizon carriers.
Scan QR code with smartphone to purchase data plan.
Select carrier when selecting cell plan, change carrier anytime.
Easy plan setup via smartphone app or website.
Receive images up to 4 ways: email, text, website, smartphone app (requires purchased data plan).
Dual paddle antennas for best reception in fringe coverage or under thick canopy.

Control Features
Change camera settings remotely using the smartphone app or the website. Allows changing all camera
settings, such as camera delay, time lapse modes, cell sending rate, motion sensitivity, etc.
Camera status reports delivered daily or accessed anytime on web or app.
Camera firmware updates done via the cellular network.
Retrieve high resolution images via app or website.

5.2.1 Warranty - 1 year standard, 2 year with product registration. 5 year low cost service replacement.