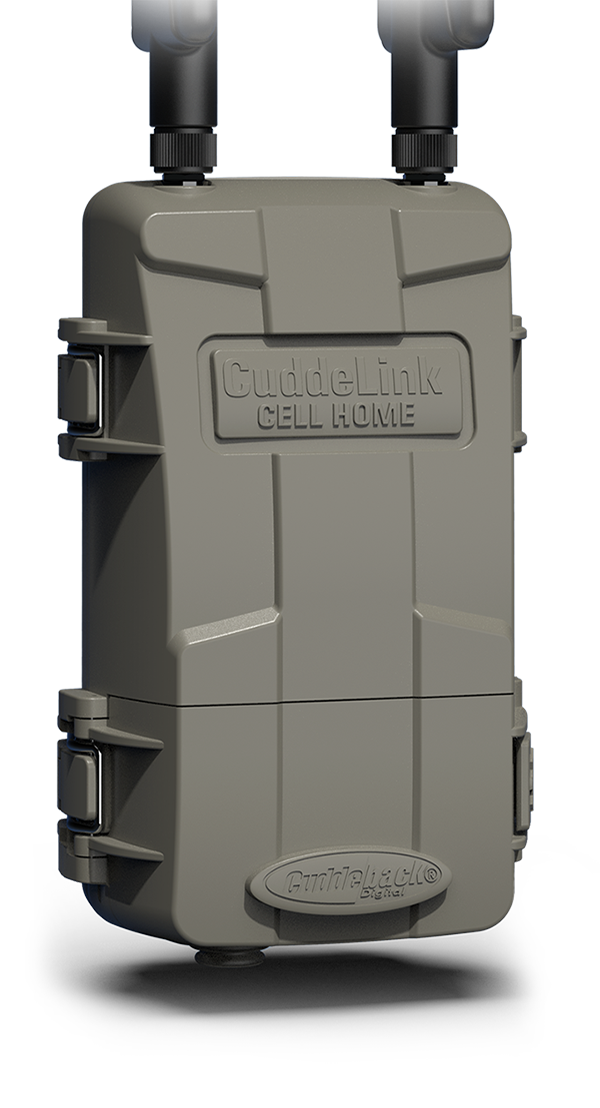 Up to 24 cameras, 1 cell plan, $10 per month!
CuddeLink L-Series Cell Home
CuddeLink Cell Home adds LTE connectivity to a CuddeLink camera network. Think of Cell Home as the heart of a CuddeLink LTE network. Cell Home collects images from up to 23 CuddeLink cameras and sends them to the user via LTE. Users receive images on a mobile device, tablet or desktop computer. Plus, all CuddeLink cameras can be remotely configured via a mobile app (Android & iOS) or any computer's web browser.
A hidden benefit of CuddeLink Cell is that it allows placing CuddeLink cameras in areas without LTE coverage, and the CuddeLink network will send those images to Cell Home placed in an area with LTE coverage. As long as you have 1 location with LTE coverage you can deploy CuddeLink cameras and get the benefit of LTE delivery from all your cameras. Cuddeback's CAMP website or smartphone APP allows you to setup and control CuddeLink cameras from anywhere using a mobile device (phone or tablet) or a desktop browser.
FEATURES
---
CuddeLink Features
CuddeLink Cell Home supports CuddeLink networking and cellular LTE image transmission.
Patented CuddeLink network technology compatible with all CuddeLink cameras (J, G, K & L series).
Supports up to 23 CuddeLink cameras.
Cell Features
CuddeLink camera-to-camera range is typically ¼ mile in a forest and much further as terrain opens. To increase range CuddeLink will automatically daisy-chain images from camera to camera to extend range to miles.
Dual high gain cell antennas for exceptional LTE coverage in fringe areas.
Dual LTE service with Verizon and AT&T LTE (user chooses at plan activation and can change as needed).
Receive images 4 different ways - email, text, mobile app, and web browser. Images are also saved on Cell Home's SD card.
Up to 10 users can receive images via email/text.
Cellular data plans start at $10 per month.
Easy LTE data plan activation by scanning a QR code with a smartphone. Or use web browser.
Built in user interface for setup at the camera.
CuddeLink cameras and Cell Home settings can be remotely configured with mobile app or web browser.
Date and time set automatically via LTE service.
Additional Features
Compatible with all Cuddeback power accessories and Genius mounts.
Requires 4D batteries (not included).
Requires SD card up to 256GB in size (not included).
Designed by Cuddeback in the USA.
5.2.1 Warranty includes 1 year standard warranty, 2 years with online registration, 5 year reduced cost replacement.